Recently, the U.S. Cotton Trust Protocol attended and participated in the Sustainable Brands Flagship Conference in San Diego (SB22), which enjoyed its first fully in-person event in the last couple of years. 
The thoughtful conference, whose theme was 'Recenter and Accelerate', hosted hundreds of people from global brands to thought leaders and industry organizations. Attendees were given key insights about consumers from recent research and studies and were able to listen to influential industry leaders such as Caitlin Harren, Director of Sustainability Solutions, Social Responsibility & Product Sustainability at Amazon, and Amanda Nusz, Senior Vice President of Corporate Responsibility at Target.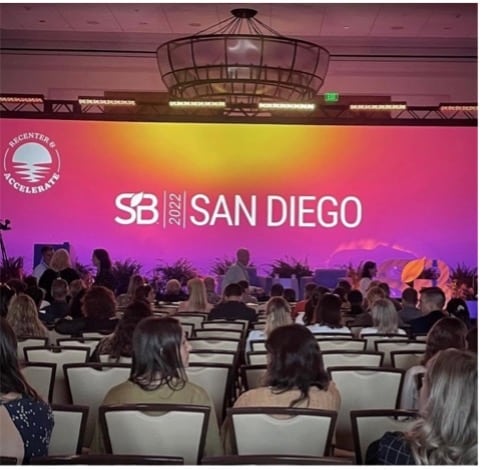 Caitlin Harren spoke of how sustainability as a concept can be overwhelming for consumers, but seem achievable as a community or collective. She emphasized the importance of science-based commitments, which was echoed by her fellow speakers.
In fact Amanda Nusz and Stephanie Grotta, Vice President of Owned Brand Connected Capabilities at Target, agreed that products need to be traced back to the farm in order to understand the impact of the supply chain, as well as remember where products originate. They agreed that sustainability strategies and practices should follow the steps of test, learn, iterate and scale.
As a program focused on setting a new standard in more sustainable cotton production, the Trust Protocol was excited to host a session at SB22. The discussion, named "Harnessing Field-Level Data to Measure and Improve Environmental Footprint," explored themes of aggregated data, verification, sustainable growing practices, and supply chain transparency.
The session featured Dr. Deepika Mishra who is a sustainability manager for the National Cotton Council, Byron Rath from the Soil Health Institute and Barry Evans, a Trust Protocol grower from Texas. The three panelists had a dynamic conversation about the importance of data, sustainable growing practices and transparency.
"The data means we can measure and improve our growing practices," said Barry Evans. "With the data that we receive, I can look at the way I'm doing things, and I can compare to the aggregated data to other sustainable practices from growers within Texas and nationwide. The program provides a lot of encouragement to continue to improve."
Echoing Barry's thoughts, throughout the conference participants spoke about the need for and importance of data. As the saying goes, you can't improve what you don't measure.
The event was a valuable opportunity to hear from people throughout the industry, and a chance for the Trust Protocol to highlight key perspectives from growers and experts.