Nowadays, aligning and adapting practices to deliver on growing stakeholder expectations is increasingly becoming a topic of core focus for those involved in the textiles industry. This includes setting credible targets for emissions reduction and demonstrating progress through transparent reporting.
On the 25th and 26th April, the Sustainable Apparel and Textiles Conference (SATC) took place in Amsterdam, where participants addressed various issues related to sustainable fashion and textiles. This year's theme was 'Towards industry alignment' and included multiple panel discussions and breakout sessions on how brands can transform supply chains, scale circularity, and drive positive social impacts on the route to net-zero.
Throughout the conference, speakers emphasized the importance of reducing emissions across the value chain and educating consumers about sustainable fashion. They underlined the significance of forming alliances with like-minded partners across the value chain to achieve these goals. The need for a clear definition of "sustainable fashion" was also highlighted, as the use of technical terms and jargon could alienate customers who find it hard to understand such language. Brands were advised to use simple language and provide scientific evidence to support their green claims.
On the second day of the conference, Advisor to the U.S. Cotton Trust Protocol, Tara Luckman, had the opportunity to speak at a panel session on 'technology, traceability and transparency', during which she highlighted how brands and retailers can use better environmental data to drive sustainable transformation in the supply chain.
In particular, Tara noted that such insights and analyses should help form a strong basis for better sourcing decisions, where it is important to not only engage with brands but also to learn and grow from the farmers on the ground feeding self-declared data into the system on how they grow cotton more sustainably.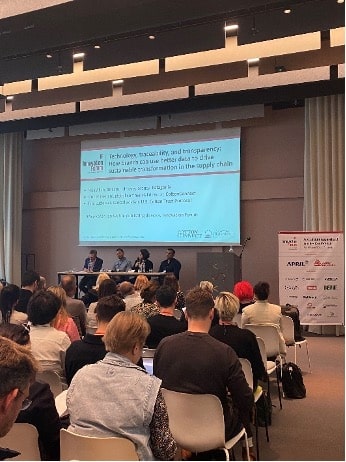 SATC showcased the importance of data and traceability in the fashion industry, where there is a growing need for technological solutions to improve the products' chain of custody. Participants highlighted the importance of upcoming EU and global initiatives on ecodesign requirements, green claims and corporate sustainability reporting, which are seen as crucial to promote transparency across the textile supply chain. The Trust Protocol is actively engaged on these topics and looks forward to continuing having fruitful discussions about them.